Rafał Mikrut was the winner of this year's round of the Porsche Platinum GT3 CUP CCE. The races held on 2-4 October in Poznan Track were marked by sports rivalry for every second that brings you closer to victory. The fastest drivers were cheered by celebrities - Natalia Siwiec and Sylwia Gliwa.

The fight in Poznan was the last round of racing in the season. During six weekends, drivers raced on the tracks in four countries. On Poznan Track, two prominent drivers
– Rafał Mikrut and Marcin Jedliński fought for the highest step of the podium and victory in the general classification. Their battle on the track was a special treat for all fans of motorsport, who could see this competition live.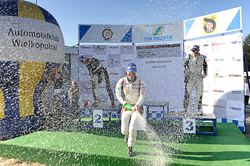 Platinum Brand is a strategic sponsor of the Porsche Platinum GT3 CUP CCE. By involving in motor sports, we can provide the most technologically advanced Platinum oils. Cooperation with the organizer of the Porsche GT3 CUP CCE is also an opportunity to test innovative solutions of our products – says Marcin Gralewski, President of ORLEN Oil.

The fastest racing series in Poland was also an opportunity to talk about motorsport and the two most popular sports, which are off-road rallies and races.
Platinum Brand has been for many years engaged in both disciplines, including through support for the competitors of ORLEN Team. During the Rally vs Race panel hosted by Adam Kornacki - automotive journalist, the invited guests and experts including Robert Lukas, race car driver and Wojciech Tanner, automotive expert and chief editor of the WRC, shared their observations on the situation in the struggles on national tracks and beyond. The discussion did not run out of topics related to the involvement of brands in popularizing motorsport and benefits of cooperation. The issue of women in the male world of motorsport appeared as well.
Summing up the meeting, Adam Kornacki stressed that whether the rallies or racing, both disciplines are combined by adrenaline, passion for cars and driving at the limits of their endurance.

***
Porsche Platinum GT3 Cup Challenge Central Europe is a series of car races in Central European countries, organized by Porsche. Among the 13 drivers, as many as eleven Poles compete for victory. This season, the classification was divided into two groups: A and B, depending on drivers' experience. Such a form of racing enhances competition among participants from group B, who first compete in the race. Porsche Platinum GT3 Cup CCE also takes place in other parts of the world, and the name of the series changes adequately to the region of the world in which it is held.