As there is a severe competition in the field of road freight transport, truck owners demand the highest performance from their vehicles. Buying motor oils for trucks is a very important step, because this vehicle has to carry out tasks for long-distance cargo delivery. Therefore, we recommend not to save, but to buy only the best oils that fully meet all your requirements, as well as protect the engine from possible breakdowns and rapid wear.
It is among the wide assortment of LOCO oil that you will always find from the one that suits your car.
Platinum Ultor Extreme 10W-40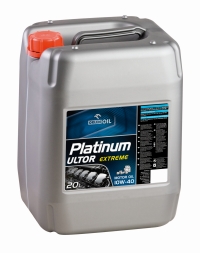 The latest generation of semi-synthetic motor oil, specially developed for new diesel engines, which operate in conditions of increased complexity with a maximum interval between replacements, simultaneously fulfills the basic standards of Euro V. The unique composition of synthetic and mineral bases for any conditions is supplemented with a set of high-quality additives of the new generation, which ensures that the highest European requirements of the ACEA, API and car manufacturers, as well as environmental protection requirements are met.
Platinum Ultor Extreme provides:
• Large intervals between substitutions,
• Clean the engine due to the soot holding in the suspension,
• Maximum engine power
• Compliance with emission standards Euro V, IV, III, II, I
• Significant reduction of costs associated with the operation of the car park,
• Compliance with the main requirements of car manufacturers.
Application
The Platinum Ultor Extreme oil is intended for all new Euro V diesel engines equipped with SCR catalysts. This oil can be successfully used in cars of early designs complying with the requirements of Euro IV, III, II, I. Also recommended for heavy-duty gasoline engines.
Standards, Harmonization, Specifications:
MAN 3277
MB-APPROVAL 228.5
VOLVO VDS-3
RENAULT VI RLD-2
MACK EO-N
TATRA TDS 30/12
Meets the requirements:
MERCEDES-BENZ 228.3
MTU OIL TYPE 2
MAN 3275
VOLVO VDS-2
DAF
In order to get advice on the selection and also order motor oils, you only need to call us and discuss all the options for ordering and delivery of selected materials.