April 5-7, 2019 will happen the first national event of motor sport in this season - PLATINUM 3 Rally Memorial of Janush Kulig and Marian Bublewich, which passes annually in Wieliczka, Poland.
This rally is the most important automobile event in Wieliczka and the only event in Poland dedicated to the memory of two rally drivers. The organizer of the event is Automobilklub Krakowski, City Government and Wieliczka Commune. The main sponsor of the event is PLATINUM.
Special guest of this year's event will be Cuba Pshigonski, a multiple Dakar rally participant, winner of the FIA World Cross Country Championship in 2018, Poland's Drift Champion. Cuba and its Toyota GT86 will be located in the PLATINUM zone.
The traditional element of the event is a sports competition to be held in Wieliczka: an evening prologue on Saturday and the start on Sunday near the "Solne Miasto" hall and the finish on Daniilovich Billow. This year, the organizers abandoned the stages on the so-called papas fields in Brzegi. Instead, the program included sports tests in the area of Lapanova, the native place of Janush Kuliga, and also in the Gdow and Razechowice area.

The total length of the route is about 108 km. Registration will continue until March 24. April 5, technical tests of vehicles will take place, April 6 and 7, drivers will go on the route. As in previous years, the rare cars will also be able to take a part at that competitions.

The sponsors of the event became also Mrs. Beata Bublevich, Mrs. Agneshka Kulig, and also Mrs. Helen and Mr. Jan Kulig.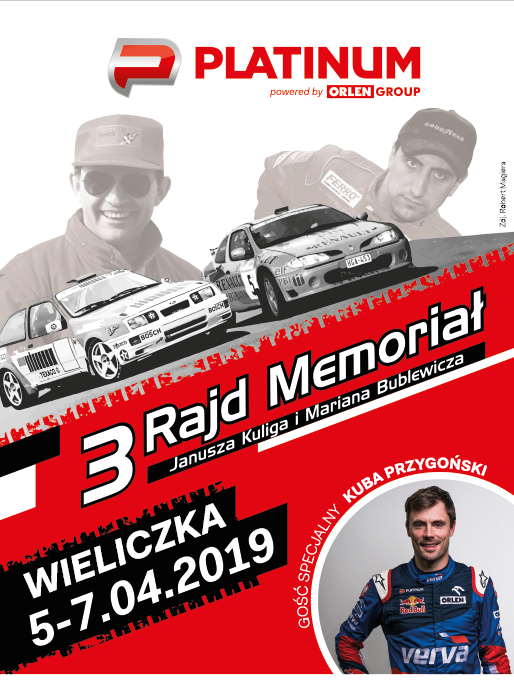 Source - http://www.orlenoil.pl