On 11 November this year Aleksandra Kowalik, a prospective young motocross driver, entered the 17th Władysław Dudziński Grand Prix of Independence taking place on the "Podzamcze" motocross track in Sochaczew to finish 7th in the women general classification. It was her first race on the new Kawasaki KX250F bike, which she had received as a part of the recently-initiated cooperation with the manufacturer. ORLEN Oil supports Ola in her starts and development.
The 18th Władysław Dudziński Grand Prix of Independence is one of the races organised at the season end by the "Szarak" Motor Club in Sochaczew. Despite a break in starts in season 2015, Orlen Oil's mentee, driving a new machine, finished 7th in this year's race.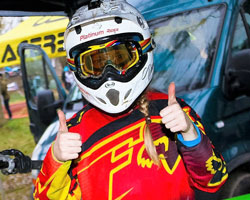 Aleksandra Kowalik has been successfully competing in motocross since she turned 15. She has won, among others, the title of the Champion of the Poznań Region and the 1st vice-Champion of the Poland's West Zone. In 2013, Aleksandra qualified for ORLEN TEAM Academy, where she had the opportunity to work with the best drivers: Jacek Czachor, Marek Dąbrowski and Kuba Przygoński.
In season 2016, the Kawasaki company shall join the group of sponsors of the young motocross adept. It will support her sport development not only by providing a Kawasaki KX250F bike but also by supplying parts and equipment necessary for races.
In the present, already ending season, the driver has focused mainly on education – she passed secondary school final examinations and has commenced Psychology in Management studies at Leon Koźmiński Academy. In the forthcoming months as well as in 2016, Aleksandra is going to focus on regaining her form and achieving the highest possible places in the Polish Championship and Poland's West Zone Championship. Her dream is to start in motocross, enduro and cross-country races across Europe and worldwide.